Bench and Bar Lunches
Connecting with colleagues is an effective way to build a positive outlook, especially for those in the early years of practice at the bar. The Wellbeing Committee organises two Bench and Bar lunches during the year at the No.10 Bistro and at the Sky Phoenix. Our Bench and Bar Lunches are proudly sponsored by BarCover.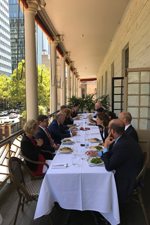 On Tuesday, 5 March, No.10 Bistro was the venue for the first Bench and Bar Lunch of 2019. It was a full house, as 75 members of the New South Wales Bar, together with several judges from the Family Court, Federal Court, Supreme Court and the District Court enjoyed excellent food and punctual service on a beautiful Sydney afternoon. Those with a seat on the balcony were especially lucky.
The second lunch was set down for Tuesday, 23 July. More than 70 members rolled up to enjoy the unique food and atmosphere of a yum-cha at Sky Phoenix.
Check InBrief for the details of upcoming lunches.