Bar News
Bar News is the journal of the Bar Association, written by the members, for the members. Each issue includes a mix of engaging and distracting articles on recent cases, professional conduct, notable speeches, appointments, book reviews and news from sporting and social events.
The latest edition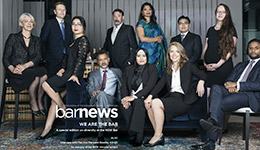 [2019] (Autumn) Bar News showcases great diversity in topics, thought and contributors and contains analysis of issues that affect diversity within the profession, and the backgrounds and experiences of individuals and their pathway to the New South Wales Bar. An archive of digital editions, beginning in 2003, is available here. [Member login required]
Contributions welcome
We welcome contributions from our members and encourage you to follow the Bar News Style Guide, which is based upon the Chicago Manual of Style. Reference is also made to the current edition of The Australian Concise Oxford Dictionary. Contributors are requested to study these sources before submitting material for publication. It may also be useful to study articles already published in Bar News. We reserve the right to alter grammatical construction, punctuation and citations to conform with the house style and accepted grammatical rules of construction.
Advertising welcome
The Bar News Committee welcomes advertising, but reserves the right to reject ads which it believes is inappropriate. Requests should be made using our booking form and we prefer advance credit card payment. For further information, contact the co-ordinator of publications and promotions.
Searchable archive on AustLII
AustLII has compiled an archive of Bar News editions, from 1985 to 2015. More recent editions will be added shortly. The archive is fully searchable and has additional functionality, such as sorting articles by "Most accessed" and "Most cited".