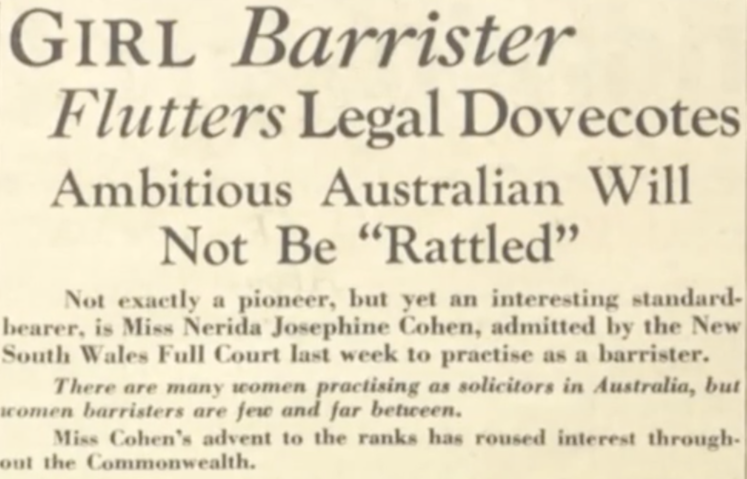 News
WBF Notice of AGM for 2020 & Election of office bearers: 16 June 2021
The Women Barristers' Forum will be holding its AGM for 2020 via Zoom on Wednesday 16 June 2021 at 5:00pm. All women barristers are automatically members of the WBF. We invite all barristers, particularly the new women barristers who have recently completed the BPC, to join the AGM. A copy of this notice, the agenda, nomination forms for positions of the executive and proxy forms will be emailed to all women barristers. Please contact Emily Graham, Co-Secretary, for the Zoom link and other documents: egraham@chambers.net.au
You may recall an AGM was held earlier this year (on 24 February 2021) which was the postponed 2019 AGM that could not proceed last year because of Covid. This is the AGM for the 2020 year which will bring us up to date with Covid-affected AGMs!"
CPD SEMINARS
WBF has organised a number of seminars over the past year. These seminars have included the following:
Towards the end of July 2017, The Honourable Justice Jagot, Vanessa Whittaker and Clarissa Amato presented a compelling CPD seminar on interlocutory applications that covered practical advocacy tips, as well as substantive issues arising in common applications.
In August 2017, Arthur Moses SC, Kate Eastman SC and Jane Needham SC presented an informative seminar on the National Model Gender Equitable Briefing Policy, providing a step-by-step practical guide to reporting.
In February 2018, the Chair, Jane Needham SC, Sarah McNaughton SC and Kelly Rees SC presented a seminar on "Pathways to Silk". This seminar provided barristers interested in applying for silk with invaluable practical advice on how to shape their practice in the years leading up to a silk application. WBF saw a significant interest among junior and more senior male and female barristers, and provided a fantastic opportunity to have questions answered by women who have previously been on the Silk Selection Committee.
In March 2018, Richard Scruby SC and Brenda Tronson dissected and discussed the wealth of data collated on the number of women appearances in NSW Courts, Federal Court (NSW Registry) and the High Court of Australia between November 2016 and April 2017. The seminar was chaired by Kate Eastman SC, and expanded on her work in the 2016 paper, Visible Targets: The case for equitable briefing which shed light on the 141% gender pay gap among barristers Australia wide, with the New South Wales Bar comprised of only 21% women in 2015.
In August 2018, WBF facilitated a round-table lunch discussion on returning to work from parental leave with a panel of barristers (being Gabby Bashir SC, Jonathan Clark, Melanie Cairns and Naomi Oreb).
SOCIAL FUNCTIONS
The new silks function in 2017 was, once again, a great success. Guest speaker The Hon Mary Gaudron QC proved a huge drawcard and a record number of barristers were in attendance to celebrate our new women silks. Throughout the year, WBF has also organised drinks nights at the Verandah Bar and invited readers. These events are always enjoyable and provide an opportunity for women barristers to get together and exchange ideas.
SILK APPOINTMENTS 2017
The new Silk appointments were announce on 29 September 2017. 5 Women were appointed:
Lesley Wahlen SC (11 Wentworth)
Melissa Gillies SC (Banco Chambers)
Naomi Sharp SC (Director's Chambers)
Katharine Morgan SC (Tenth Floor Selborne / Wentworth Chambers)
Dr Ruth Higgins SC (Banco Chambers)
Congratulations to these three women on their outstanding achievement
FEMALE PARTICIPATION AT THE BAR
The Equitable Briefing working party has released a report in response to the National Attrition and Re-engagement Study Report.
The report notes that:
There is a wage disparity of 38% between gross income of male and female barristers.
That in the Federal court the average length of a hearing that a male counsel appearing as junior counsel to Senior Counsel was 223.6 hours whereas for women Junior counsel in the same role it was 1.4 hours.
The average length of hearing for a male senior counsel in the Federal Court was 119.7 hours compared 2.7 hours for a woman Senior Counsel.
The report has recommended a number of measures including the setting of targets for the briefing of women barristers, as well as revising the Equitable Briefing Policy.
The report has been widely reported in the media:
http://www.smh.com.au/nsw/nsw-bar-push-for-national-targets-for-briefing-women-barristers-20150902-gjd3q8.html
http://www.lawyersweekly.com.au/news/17082-bar-diversity-needs-to-be-addressed
WOMEN BARRISTERS FORUM AGM
Following the Women Barristers Forum AGM, the executive members are:
Chair: Kate Richardson SC
Vice-Chair: Catherine Hamilton Jewell & Michelle Castle
Secretary: Christine Melis
Treasurer: Rosalind Winfield
Social: Caroline Dobraszczyk & Elizabeth Picker
CPD: Madeleine Bridgett & Claire Palmer
WLA Liaison: Renee Bianchi
Clerks Liaison: Jackie Charles
The minutes of the Meeting as well as the reports of the treasurer and the Chair are now available.
KATRINA DAWSON FOUNDATION
So many people have asked what can be done to preserve and honour Katrina's memory. A charitable foundation has been established and registered - The Katrina Dawson Foundation - focused on the education of women. Former Governor-General The Honourable Dame Quentin Bryce AD CVO is the founding member.
Instead of flowers, please consider making a donation to Katrina's Foundation (online at www.thekatrinadawsonfoundation.org or cash/cheque through any Commonwealth Bank branch)
Katrina was a light in so many lives. She shone in so many ways with her warmth, her brilliance, her humour and her limitless love and affection for her friends and family. And she made the most of every opportunity she had. It is our hope that out of her senseless death we will, through the opportunities the Foundation will provide, bring meaning to the lives of other amazing young women.
ARTICLES AND SPEECHES
http://theconversation.com/australian-women-must-hold-their-nerve-until-justice-is-served-21464
http://www.fedcourt.gov.au/publications/judges-speeches/justice-perry/perry-j-20140405
http://www.lawyersweekly.com.au/news/16258-briefing-practises-need-a-culture-shock
http://www.abc.net.au/news/2015-03-06/new-court-role-to-help-female-lawyers-become-barristers/6285720
http://www.nswbar.asn.au/docs/webdocs/BN_022015_feature1.pdf
HELP NEEDED
The Bar Alumnae Subcommittee is looking to contact female former barristers. If you know of any anyone that has left the bar, for any reason, please contact the members of the Bar Alumnae Subcommitte.
CALL FOR SPEAKERS
The WBF is seeking women barristers who are willing to present at upcoming CPD events. If you have provided a CPD, or would like to provide a CPD, or know of someone who can provide a CPD, please contact the members of the CPD subcommittee.
HAVE WE MISSED ANYTHING?
If you know of an upcoming event or some news about a WBF member that we have missed, please contact Kavita Balendra and let us know.