COVID-19
We are monitoring COVID-19 developments and all efforts to contain the risk posed by the virus. To protect the health and safety of members and staff of the association, we will continually update the following list of resources.
messages from President
All the president's messages since the COVID-19 crisis began
Court procedures
We are maintaining a consolidated guide to the various COVID-19-related court arrangements in NSW and in federal courts and tribunals. The guide covers information for those attending court as well as up to date information on procedural changes being made in view of the coronavirus pandemic in the various jurisdictions.

Protocol for In-Person Hearings while Social Distancing
The attorney general and the chief judge of the District Court have announced that jury trials will recommence at selected locations from 15 June. Recognising the importance of this issue to our members, we have prepared a Protocol for In-Person Hearings while Social Distancing. It is designed to apply to all in-person hearings, not just criminal jury trials and is intended to provide guidance to practitioners who are required to appear in court in person during the COVID-19 pandemic, while social distancing restrictions continue or risks to health otherwise persist. This Protocol is likely to be amended as circumstances change.
REMOTE advocacy
Protocol for Remote Hearings
The Bar Association has finalised a Protocol for Remote Hearings for the benefit of its members and the courts. The protocol was developed by a diverse sub-committee comprised of members from a wide range of areas of practice. It has been provided to the chief justice of NSW and has received his endorsement.
Remote advocacy skills
The Australian Advocacy Institute has produced a 24-minute video to assist all practitioners meeting the demands of effective communication using remote video access to court.
Court technology assistance for barristers
The Bar Association wants to help those required to use online hearings as a result of the COVID-19 pandemic. To assist, our Innovation and Technology Committee will provide email assistance to members having connectivity issues. Contact: technology_assist@nswbar.asn.au

For news and insights into videoconferencing tools, you can visit Court Technology Assistance for Barristers, which is a Linkedin Group. User guides and instruction manuals issued by courts and tribunals can be viewed and downloaded.
Legislation
COVID-19 related developments in commercial law and practice
The Commercial Law Section has prepared notes on various COVID-19-related decisions that have come out and other developments that are relevant to commercial practice. The document summarises recent legislative and judicial developments relevant to commercial practice in light of challenges posed by the COVID-19 pandemic. It does not constitute legal advice and readers should undertake their own research and seek up to date advice relevant to their particular circumstances.
Criminal law resources

The Public Defenders have compiled an excellent online resource for criminal lawyers, which includes court and AVL information, as well as draft submissions and bail, sentencing and procedural cases. The Public Defenders' COVID-19 webpage also allows practitioners to report confidentially their experiences during the COVID-19 pandemic to assist with future law reform and debate.
Bar association services
We have implemented a remote working policy until further notice. Although our premises will not be occupied through this time, we will continue to offer a full range of services to members online and remotely during usual office hours.
Continuing Professional Development
The Bar Association is now offering members who are unable to comply with their CPD requirements by 31 March for any reason the opportunity to seek an extension of time to complete their necessary CPD points. An exemption, in whole or in part, from the requirement to complete CPD activity by 31 March may also be sought in exceptional circumstances as set out in Rule 13 of the Legal Profession Uniform Continuing Professional Development (Barristers) Rules 2015.
The Bar Association acknowledges that the disruption caused by the COVID-19 pandemic constitutes exceptional circumstances, and applications will be granted in the usual course, however exemptions, reductions or extensions must be sought in writing and directed to the Director, Professional Development, Bali Kaur at bkaur@nswbar.asn.au
The Bar Association also encourages practitioners to login to CPD Online to meet their CPD obligations prior to the CPD year ending 31 March 2020. There is no limit to the number of points that can be accrued through the private study of audio-visual material. To further assist members in completing there CPD points, the association has prepared a companion guide information package with links to a small sample of recent online CPD sessions.
Financial assistance
PC and membership fees
In response to the COVID-19 pandemic, the Bar Council has resolved to implement a range of relief measures, including payment by instalments and waiver of membership fees for junior counsel.
COVID-19 Stimulus Measures for Barristers Chambers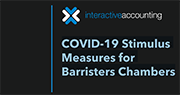 Interactive Accounting has provided a document for barristers chambers on federal and state government stimulus packages in response to the COVID-19 pandemic.
Taxation
PwC Australia has provided the Australian Bar Association a high-level summary of tax issues associated with the spread of COVID-19.
Fee recovery
The Bar Association assists members with recovery from solicitors of unpaid fees, which have been outstanding for more than six months, but less than two years.
Income protection
We have established a pool of experienced insurance counsel who will be available to answer questions from members regarding income protection insurance. Members seeking assistance with income protection matters should email the association at incomeprotection@nswbar.asn.au and provide a scanned copy of their policy and a short outline of their circumstances and their particular question or questions.
The JobKeeper payment is intended to provide wage subsidies to businesses that are significantly affected by COVID-19. Eligible employers include businesses structured through companies, partnerships, trusts and sole traders. Register your interest on the ATO website.
Information about early access to superannuation, instant asset write-offs and other COVID-19 assistance is also available from the Australian Tax Office website.
The Barristers Benevolent Fund
The Barristers' Benevolent Association of New South Wales provides financial assistance to members who are suffering from hardship either in the short term or long term. The funding is an important part of the collegiate life of the Bar and how we look after each other.
Wellbeing
Working from home (WFH)
Be mindful of your resilience and wellbeing during this challenging time. Working from home can increase stress and reduce wellbeing. The Black Dog Institute has published a working from home checklist to support your mental health during the COVID-19 pandemic. Here are some tips to setting up your practice at home.
BarCare
If you're concerned about yourself or a colleague, visit barcare.org
Workplace information
Employers should provide information and brief all employees and contract staff, including domestic and cleaning staff where applicable, on relevant information and procedures to prevent the spread of coronavirus.
World Health Organization, Getting your workplace ready for COVID-19
New South Wales Government, Novel coronavirus (COVID-19) resources for businesses
Australian Government, Coronoavirus (COVID-19) information for employers
Public health information
Human coronaviruses are spread from someone with confirmed coronavirus to other close contacts with that person through contaminated droplets spread by coughing or sneezing, or by contact with contaminated hands, surfaces or objects.