Wellbeing
Practising at the bar is unquestionably stressful. Analysis of Barrister Wellbeing and Quality of Working Life surveys shows that many barristers report high levels of stress, perfectionism and self-criticism. Two-thirds feel they do not get adequate sleep. Do you, or a colleague, need help? The Bar Council of England and Wales has produced this excellent animation about the pressures that bear down upon barristers.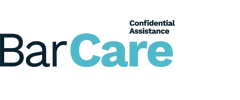 BarCare is an independent professional counselling service designed to assist members to manage stress-related problems, such as marital breakdowns, drug or alcohol dependency and practice pressures.
Barristers' Benevolent Association
Every year there are barristers who encounter personal misfortune and require assistance. The Barristers' Benevolent Association responds to calls for assistance without formality and without delays.
Five ways to wellbeing
The Five Ways to Wellbeing is an evidence-based approach to feeling good and functioning well. They are simple, every day actions to contribute to a positive experience of life. They are: Connect, Be Active, Take Notice, Keep Learning and Give.
Clinical resources
Facts about mental illnesses, online testing and current treatments: Get the latest information from the Black Dog Institute, Beyond Blue and a host of Australian and international centres of excellence in the field of mental health.
Financial security
Practising as a barrister requires careful planning and management of cash flows, tax liabilities, income protection and superannuation. Without proper financial advice, money matters can soon get out of hand.